February 28, 2012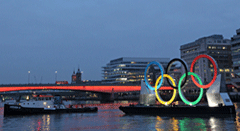 The Mayor of London Boris Johnson today launched a set of giant Olympic
Rings onto the River Thames as he announced a programme of cultural
events to celebrate London 2012.

From 21 July - 9 September, live music,
outdoor arts and 'pop up' events will take place throughout London. Ranging
from an original fusion of ballet and film to a floating opera, the programme
will provide extra
opportunities to get involved with the London 2012 Festival.

'We're creating the biggest festival of outdoor arts ever to
be seen in the capital, as well as fantastic new work that will throw new light
on some of our city's lesser-known landmarks and hidden gems."
News date : 02/28/2012