May 22, 2013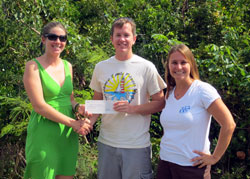 Abaco, Bahamas - The 2013 Great Abaco Family Fitness Weekend
(GAFFW) raised funds for two Abaco based organizations, The Rotary Club
of Abaco and Friends of the Environment.

In only it's second
instance, the 2013 event held in March more than doubled it's
participation from the inaugural year. 185 eager athletes and families
competed from across North America and the Bahamas, selling out the
event host, the Treasure Cay Beach, Marina & Golf Resort...
News date : 05/22/2013