April 01, 2013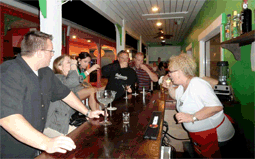 Freeport,
Grand Bahama Island - The only Irish pub in The Bahamas and located in
the heart of Port Lucaya Marketplace, Molly Malone's Pub and Eatery

located at the former Shenanigan's Irish Pub
location is warm and
welcoming. The tradition of Ireland has been extended to our menu, yet
we also have culinary classics to entice you. We consider Molly
Malone's a different type of Irish pub. We blend the best of the old
with the best of the new.

Try our rack of lamb; corned beef with
cabbage; prime rib; steak with garlic & onions; potato & leak
soup. Or perhaps you'd prefer our shrimp curry or grilled salmon.

Come in and enjoy a pint or two! Happy Hour runs daily from 4 -7 pm...
News date : 04/01/2013