October 03, 2010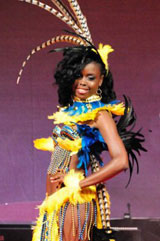 Lakendis Brown Miss Progress Bahamas, seen here in her national costume. Lakenis won the best costume award at the Miss Progress International Pageant in Italy.

Lakendis to made the top four at Miss Progress International. She has definitely helped put the Bahamas on the
map.

Ms. Brown crowned Miss Bahamas Progress
in August of this year..
News date : 10/03/2010