January 10, 2013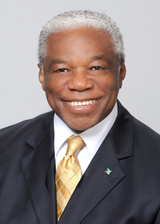 NASSAU, The Bahamas
--- Voting in the National Referendum on the Establishment of a National
Lottery and Web Shop Gaming will "mirror" that of the General
Elections, Minister of National Security, Dr. the Hon. Bernard J.
Nottage said Wednesday.

Dr. Nottage has oversight for the
Parliamentary Registration Department, and by extension the Referendum -
as Minister of National Security. The National Referendum is scheduled
for January 28, 2013. An Advanced Poll, inclusive of overseas voting,
will take place on Monday, January 21, 2013...
News date : 01/10/2013