May 24, 2012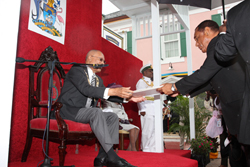 NASSAU,
The Bahamas - The newly-elected Progressive Liberal Party Government
revealed an ambitious and extensive agenda to tackle the numerous and
complex challenges facing the country, during the reading of The Speech
from the Throne delivered at the Opening of Parliament on Wednesday, May
23, 2012.

His Excellency Sir Arthur Foulkes, Governor-General who delivered the
Speech said central to the Government's Agenda are two overriding
imperatives.

Firstly, the need to reduce violence and crime and secondly, the need to
build a stronger economy that creates jobs, deepens and broadens
Bahamian ownership...

Enclosed is the Speech From the Throne...
News date : 05/24/2012