May 06, 2012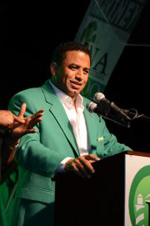 Good evening Bahamas. Welcome to Arawak Cay. I hope you enjoyed our Family Fun Day.

This is our last mass rally before we win the next general elections of the Bahamas.

Can
you feel it Bahamas? Can you see the DNA's being victorious on Monday
night? On May 7th, Bahamas, the DNA will make history again.

12
months ago, the political landscape in the Bahamas comprised of two
major political parties. Over 12 months ago, many Bahamians had no
interest in voting in the 2012 general elections because quite frankly,
they believed that the leaders...
News date : 05/06/2012