April 25, 2012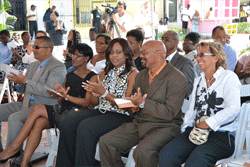 Freeport, Grand Bahama - During a
brief ceremony staged in the heart of Downtown's Churchill Square,
executives of The Grand Bahama Port Authority, Limited, (GBPA),
marked the culmination of its 3-phase, 3 year Downtown Turnaround
Project (DTP) on Friday past. President Ian Rolle, along with newly
appointed Vice Chairman for the GBPA Group, Miss Sarah St. George and
Interim President for the Downtown Freeport Business
Association, Mr. Wilfred Seymour stood proudly as they unveiled the
newly revitalized Sir Winston Churchill bust, followed by a tour and
opening of GBPA's new Bahamian Shopping Village within the Churchill
Square.

"The Downtown Turnaround Project was a
major component of our 'Making It Happen' initiative'," stated Rolle as
he addressed his audience of...
News date : 04/25/2012