April 24, 2012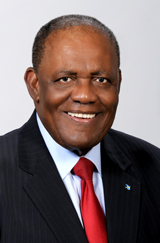 Grand Bahama Island - Less than two weeks before the general elections, PM Hubert A. Ingraham
travelled to Freeport where, addressing FNM supporters, he outlined the
Government's plan to continue to support the economic recovery of Grand
Bahama and decried the PLP's 'Carnival' campaign .

Mr Ingraham called for all Bahamians to support the FNM on May 7th and
to keep in opposition a party, which was ridden, while in office, by
numerous scandals, like the Korean boat scandal, the Visa Scandal, the
Money in the Closet incident, and the celebrity scandals, to name a few.
"With them, a scandal a day, keeps good government away" said the PM...
News date : 04/24/2012