February 17, 2012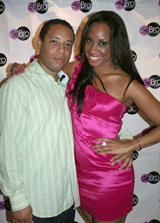 Freeport, Bahamas -

The brother and sister team of Kenton
and Kerel Pinder is bringing another star studded event to the Island
of Grand Bahama; a Post-Valentine's Day Stop Light party on February 18th!

"Whether you're
in relationship, single, or in a complicated situation, this party
is for you,"

said Kerel Pinder, who is a past Miss Grand Bahama as well as Miss Earth Bahamas.

"We think that Valentine's Day should be fun for EVERYONE, not just couples!"

This SisBro Productions sibling duo held a very successful women entrepreneurs cocktail
expo in 2010 called, "Blooming Orchids" and their Stop Light Party...
News date : 02/17/2012