February 07, 2012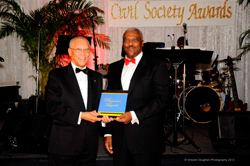 NASSAU, BAHAMAS - Mr. Nathaniel Beneby, Jr., was recognized as a 'Bahamian
Legend in the Field of Banking' at the 10th Annual Civil Society Awards
and launch of the 2nd

Bahamian Legends publication
by Jones Communications Network. The distinguished award was presented
to Mr. Beneby on February 2, 2012, by His Excellency, Sir Arthur Foulkes,
Governor General of The Bahamas, at a black
-

tie affair for close to 350 community leaders.

Mr. Wendall Jones, CEO
of the Jones Communications Network, paid tribute to Mr. Beneby recognizing
his outstanding 38
-
year career with RBC and his many contributions
to the advancement of banking in The Bahamas. "RBC has been in The
Bahamas for more than 100 years and Mr. Beneby is the first Bahamian
to have...
News date : 02/07/2012