May 24, 2011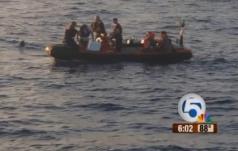 BOYNTON BEACH, Fla. - The crew of the Coast Guard Cutter Bluefin Sunday morning rescued three men who had left from Boynton Beach in a 35-foot vessel.

Bruce Mandigo, Dave Mandigo and Jhade Woodall were rescued 22 miles off the coast of Bahamas. They were anchored near West End when their vessel sank.

The Bluefin, an 87-foot patrol boat based in Fort Pierce, found the three boaters and their vessel after the vessel's personal locator beacon was activated.

Seventh Coast Guard District search-and-rescue coordinators in Miami saw the notification and directed an HC-144 Ocean Sentry aircraft to search for the...
News date : 05/24/2011 Category : Accident/Emergency