February 28, 2011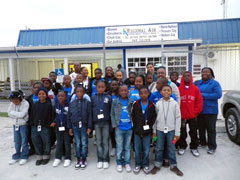 Grand Bahama Island, The Bahamas - It wasn't a typical school day for 32 students and teachers of Holmes Rock Primary School when they journeyed to the 'Big Yard' recently. Instead of studies at desks and chairs in the classroom, the delights of Andros unfolded before their eyes during their one-day excursion arranged by Bahamas Educational Tours (BET).

"As teachers we always seek ways to bring our lessons to life. This trip was planned so that these students would be able to see things firsthand that they formerly only read about in textbooks," explained

T'shuria Moss, grade 3 teacher, Holmes Rock Primary.
News date : 02/28/2011 Category : Education