May 15, 2013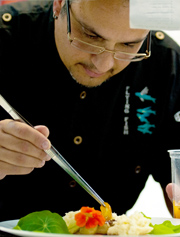 A fellow chef from back in Canada sent this
list to me recently. I thought it was supposed to be a bit
of a joke. However, once I started going down the list I realized
that it is 100% true on every level. So if you or someone you
love is thinking about becoming a chef, perhaps you should try to talk
them out of it!

When people are thinking of taking their first steps into kitchens,
many around them are quick to give advice. They will warn of the toil
involved, the strength of character and the stamina that are needed,
the long hours...

But however much warning is given, one is always quick
to disregard it and shrug one's shoulders because really, how hard can
it be? In my years working in kitchens, I have seen hundreds
come...
News date : 05/15/2013