May 13, 2013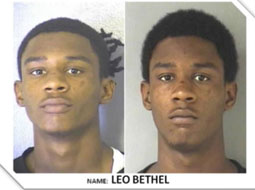 Nassau, Bahamas -

Police are questioning a 19 year old male of Abraham Street off Kemp Road in
connection with the recent shooting death of 44 year old KYLE NICHOLAS
BRUNER of WEST FLETCHER STREET, CHICAGO ILLINOIS.

Officers of the Mobile Division arrested ANTONE BASTIAN aka "Lolly" around 12:30
pm on Monday 13th May, 2013 at Market Street and Trinity Place.

Acting on information around 3:30 pm officers of the Mobile Division arrested a 20 year
old male of Clarke Alley off Abraham Street.

Police are searching for a third suspect
18 year old LEO BETHEL of BALLS
ALLEY, off SHIRLEY STREET.
News date : 05/13/2013