April 22, 2013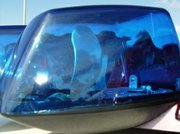 A 48-year-old man died on Friday when the car he was driving was in collision with another car on Queen's Highway, Eleuthera. The accident happened at about 6:30pm at the intersection of Queens Highway and Church Street, Palmetto Point.
#Police say the victim, who The Tribune understands is Laveaux Bonami, was driving a blue 1995 Chevy Lumina north on Queens Highway when his vehicle was in collision with the GMC truck. Both drivers were seriously injured; however, the North Palmetto Point resident was pronounced dead at the scene.
#The driver of the GMC truck was later airlifted to New Providence, where he is detained in hospital in critical condition. Officers from the Royal Bahamas Police Force traffic department travelled to Eleuthera to assist with the investigations. Mr Bonami is survived by his wife and two children. Superintendent Ismella Davis, attached to Governor's Harbour Police Station, warned motorists to be careful while on the streets.
#She said: "I think people need to understand the rules of the road and the importance of following them. We want drivers to exercise the necessary precautions and to drive with due caution and care to avoid these types of things from happening." Her warning comes after traffic police in Nassau expressed concern about the frequency of serious accidents, particularly in Freeport and Eleuthera.
#In February, a 15-month-old child and his 18-year old mother, Lakeisha Rolle, died when the green 2001 Nissan Sentra they were in crashed into a utility pole on Queens highway. Two weeks later, a US visitor as well as a 30-year old Hatchet Bay resident, died in two separate traffic accidents on Queen's Highway. Investigations are continuing.
Click here to read more at The Tribune
News date : 04/22/2013 Category : Accident/Emergency, Tribune Stories