April 12, 2013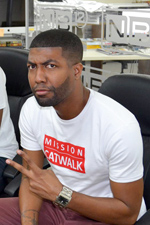 Nassau, The Bahamas -
Mission Catwalk, a Caribbean based fashion reality television series is
in search of burgeoning fashion talents in the region; and the hit
series which recently ranked as the number one television show in
Jamaica, is about to get a Bahamian invasion.

When
Mission Catwalk Season 3 premieres on April 13th, The Bahamas will be
represented in the blossoming show as witty and incomparable local
fashion designer Theodore Elyett puts his needle and thread in the race.

Mission Catwalk is
filmed in Kingston, Jamaica - the country which also delivered the
show's past two winners.But this year, Elyett is seeking to give the
contestants from Jamaica and the seven other Caribbean countries
represented a run for their money...
News date : 04/12/2013