April 08, 2013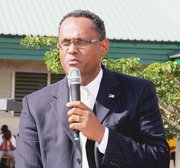 Freeport – Minister for Grand Bahama Dr Michael Darville said a new 150-bed hospital will be constructed on Grand Bahama to meet the demands of both public and private patient care. Dr Darville admits that there is a bed shortage issue at the Rand Memorial Hospital.
#"We are right now doing necessary research for bed space," he said. "Over the last couple of days, it was reported in the media that an individual had demanded bed space. "We don't take that lightly and we are doing necessary research because we are in the planning for a new hospital as we speak," he said.
#Last Wednesday, Grand Bahama Christian Council president Bishop Arnold Pinder called attention to the lack of beds at the hospital. Bishop Pinder criticised the PLP government for cancelling the former government's plan to increase bed capacity by transforming the old Freeport Inn Resort, which was purchased for $1.9m as a means of upgrading the Rand. Dr Darville said the PLP administration is committed to building a state-of- the-art hospital on Grand Bahama.
Click here to read more at The Tribune
News date : 04/08/2013 Category : Public Works/Infrastructure, Tribune Stories