February 14, 2013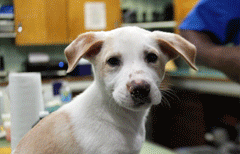 BIMINI, Bahamas - The two small islands of Bimini do not have a veterinary clinic, but
there is no shortage of animals in need of care. Several times
a year Dr. Valentino Grant, from the Palmdale Veterinary Clinic in Nassau,
visits Bimini to do checkups as well as spay and neuter clinics. He
offers reduced prices and local donations help cover the cost of certain
treatments for stray animals and low-income pet owners. The spay surgeries
are particularly important in order to keep the dog population on the
island in check.

Dr. Grant sets up a make shift clinic at the Community
Center on the north island and at the Sharklab on the south island.
Volunteers from the local community, Bimini Sands Resort and Marina...
News date : 02/14/2013