January 23, 2013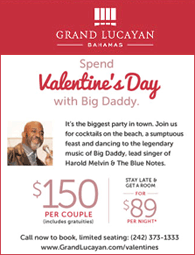 This Valentines Day Grand Lucayan
Bahamas invites you to attend the biggest party in town! Join them for
cocktails on the beach, a sumptuous feast and dancing to the legendary
music of Big Daddy, lead singer of Harold Melvin & The Blue Notes.
Just $150 per couple (includes gratuities); stay late and get a room for
only $89 per night. Call (242) 373 - 1333 NOW because seating is
limited.
News date : 01/23/2013