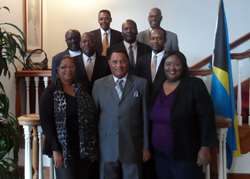 Nassau, Bahamas - The
Executive Officers of Civil Society Bahamas (CSB) met with The Right
Honourable Perry G. Christie, Prime Minister of The Bahamas and The
Honourable Khaalis E. Rolle, Minister of State for Investments on Friday
11th January 2013.

The executives offered congratulations on
numerous initiatives taken by the present government administration and
also to place emphasis on the need for a framework to establish genuine
consultations among national social partners. This focused approach was
taken in order to accomplish a common understanding...