January 13, 2013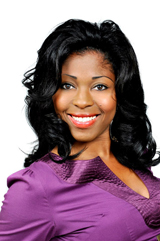 Freeport, Bahamas - The new Mrs Bahamas has been chosen, and it's Natasha Darville of Grand Bahama Island.

Mrs.
Natasha Darville is married to Mr. Ronald
Audric Darville Jr. Together they have three (3) children - Ethnie,
Ziarre and Mckaila. She is sponsored by Serenity Spa.

Her favourite quote is "Catch me if you can, I am going places".

Mrs.
Bahamas-World
is open to all Bahamian "married" women (not separated, divorced or
widowed) and must be between the ages of 21 through 55 years of age. The
winner goes on to
represent The Bahamas as an Ambassador to the...
News date : 01/13/2013