September 25, 2010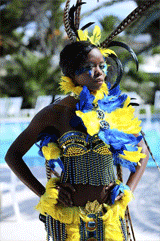 Bahamian, Lakindes Brown is in Italy
competing in the first Miss Progress International contest.
The finals are set for September 25th 2010.

Lakindes was 2nd Runner-up Miss Earth Bahamas.

Strikingly beautiful, 23-year-old Lakindes Brown is
fierce and feared as a master of the catwalk. Health conscientious and
fitness craved, she believes the body should be in perfect shape and
condition to host ones spirit. An aspiring entrepreneur in the field on
Business Management, she is a featured face in local modeling
advertisements and publications. With a platform to promote the
"Benefits of Cultural Diversity"...
News date : 09/25/2010