November 22, 2012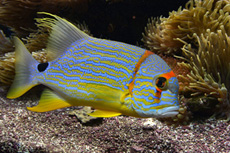 Better protection of
shoreline natural systems, such as mangrove swamps and sea grass
meadows, will help reduce the impact of increasing ocean acidification
on fisheries and aquaculture, an IAEA co-hosted Workshop has recommended
to policy makers.

The recommendation is among the conclusions of
Bridging the Gap Between Ocean Acidification Impacts and Economic
Valuation, held from 11 to 13 November in Monaco by the IAEA and the
Scientific Centre of Monaco.

Currently, oceans absorb 25 percent
of the atmospheric carbon dioxide emitted each year. The amount of CO2
in the atmosphere is increasing due to human...
News date : 11/22/2012