October 17, 2012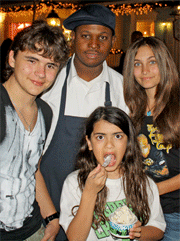 Nassau,
Bahamas - "Michael Jackson was always an inspiration to me," said Bahamas' Celebrity Artist, Jamaal Rolle, who has been
featured on ABC and NBC news for his many celebrity drawings.

"One night I saw an entourage of about eight securities guarding some
children. The children appeared to be familiar to me as I had seen their
faces before. I recognized the children to be Michael Jackson's as well
as the gentleman who was with them to be Tito Jackson, son out of a
former music group called 3T," said Rolle who goes on to explain that
during their walk through Marina Village (where his shop is), one of the
security guards...
News date : 10/17/2012