September 23, 2012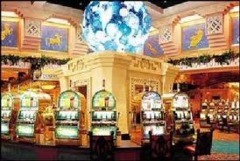 AP: Nassau, Bahamas - Resort security personnel on Sunday foiled an attempted robbery inside the casino of one of the Caribbean's largest and best-known destinations.
Three bandits tried to rob a cashier's cage in the casino of the Atlantis mega-resort in the Bahamas after inundating it with pepper spray, according to a statement from Kerzner International Bahamas, which manages the resort.
Resort officials said the robbery attempt was not visible to casino patrons. It occurred in an employee-only area behind the kiosks where people collect winnings...
News date : 09/23/2012 Category : Crime