July 26, 2012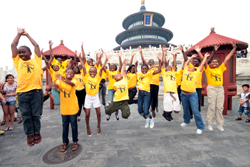 BEIJING,
People's Republic of China -- Directors, parents, stakeholders and
members The Bahamas National Children's Choir pose on the steps of the
Mengminwei Concert Hall of the Tsinghua University, after their
performance in Childrens' Category A, at the 11th China International
Chorus Festival and International Federation of Choral Music World
Choral Summit, in Beijing, the People's Republic of China, on July 18,
2012.



More than 160 choirs from 39 countries and regions, are taking part in
the event, which will end July 20th. The Bahamas is the only Caribbean
region choir taking part.

..
News date : 07/26/2012