May 06, 2012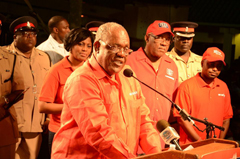 "Ingraham Reveals Details into Court Case Involving PLP Deputy Leader Brave Davis"

Freeport, Bahamas - The following are Remarks at the Free National
Movement (FNM) Rally held at Sunrise Shopping Centre, Grand Bahama by
the Rt. Hon. Hubert A. Ingraham, FNM Party Leader on 5 May 2012:

Grand Bahama; Bahamians everywhere;

I
report to you tonight that the Wave of Colour Red is headed for
victory! I just came from MICAL over the weekend. I went to make sure
they were in the bag. We tied the bag and tagged them - they are FNM!
News date : 05/06/2012