May 06, 2012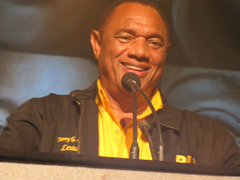 Nassau, Bahamas - (R.M. Bailey PLP Closing Rally, May 5th, 2012) I can't tell you how many people I met today who always been red - but they just can't take what's happened to the FNM.

They mad that Ingraham is a one-man band.

They mad there are no new leaders being groomed, no new voices allowed, no disagreement permitted.

That's not an FNM they want to be a part of.

They are angry and afraid about Ingraham's failure to lead on crime.
News date : 05/06/2012