May 02, 2012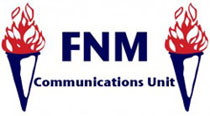 Police Investigation Reveals Incident Never Happened

Hon. Tommy
Turnquest, FNM spokesperson released the following statement in response
to the revelation of details showing that Christie's allegations of
someone spit on Mrs. Christie are completely false:

"Perry Christie is willing to say anything to get elected. But the
more he talks, the more the Bahamian people see his true colours."

"Perry Christie's recent allegations that someone spit on his wife made front-page news.

But
when interviewed by the police, Mrs. Christie told the investigating
police officer that while the man talking to her had saliva coming from
his mouth, she was never spat on or spat at. "
News date : 05/02/2012