April 30, 2012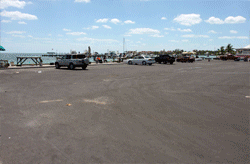 Nassau, Bahamas - The photo shows a recently paved
parking area for customers who patronise fish, fruit and vegetable vendors at
Montagu. A joint project of the Government and Kerzner International provides
20 public parking spaces and 14 boat trailer spaces along with a new entry and
exit.

Two toilet blocks are under construction
at the east and west ends of Montagu. The restroom facilities are a part of the
Montagu Foreshore Redevelopment Project sponsored by Kerzner International and
the Bahamas Government. The photo shows the toilet block being built at the
eastern end of Montagu.

Photos enclosed

...
News date : 04/30/2012