September 06, 2010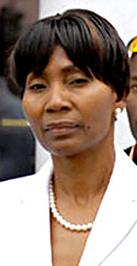 Grand Bahama Island, The Bahamas - (September 6, 2010) The following is a press statement by Pleasant Bridgewater:

As
I stand here today, the words of an old familiar hymn ring out in my
mind, "To God be the glory, great things he has done".

Today's
proceedings mark the conclusion of what I term the greatest nightmare
of my life. Almost two years ago, I resigned from the Honourable Senate
to focus on my defense. At that time, I declared my innocence.
Today, I again maintain and declare my complete, absolute and one hundred
per cent innocence...
News date : 09/06/2010