April 26, 2012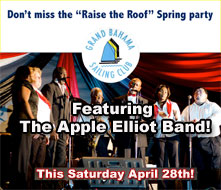 Don't miss the "Raise the Roof" Spring party at the Grand Bahama Sailing Club this Saturday April 28th featuring the fabulous sounds of the

APPLE ELLIOTT BAND. Party to rock, soul, blues, oldies and classics from this great seven piece band.
Saturday April 28th from
7.00pm Tickets: Members $15.00...
News date : 04/26/2012