April 25, 2012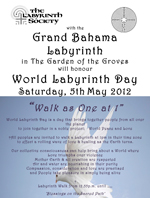 Freeport, Bahamas - "Walk as One at 1" will be held at

he Grand Bahama Labyrinth in The Garden of the Groves

in honour of

World Labyrinth Day on

Saturday, May 5th, 2012 at 1pm.

World Labyrinth Day is a day that brings together people from all over the planet

to join together in a noble project; World Peace and Love.

All are invited to walk a Labyrinth at 1pm in their time zone to effect a rolling wave of love and healing as the Earth turns...
News date : 04/25/2012