April 19, 2012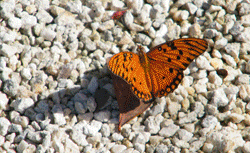 EARTHCARE celebrates
Earth Day, 2012. Looking back over the last 24 years, we are proud to
see that we were able to reach many students and teachers in the
Northern Bahamas as well as members of the public. From the first 2nd
grade class that we addressed in 1988 on Climate change and Ozone
Depletion to the teens we meet in 2012 who are empowered by the
Governor's General Youth Award programme to clean up their environment
and pressure their parents to recycle it has been a rewarding time. It
is a good feeling yet there is so much more work to be done and more
people to reach.

In April EARTHCARE is
speaking to service clubs, such as the Rotary Club at Sunrise, Pilot
Club of Freeport and the Rotary Club of Lucaya on Grand Bahama on
Coastal Awareness month on behalf of the Sustainable EcoTourism
Committee...
News date : 04/19/2012