April 13, 2012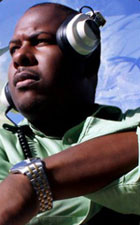 Taking Jesus Christ to the Streets, to the People

Nassau, Bahamas - The famous Christie Park on Nassau Street, will come
alive

Friday 20th

April, 2012 at 7:30pm as D.J.Godson,

formerly known as D.J Slyfox, in association with Mr.J Int'l &
Entertainment, will host

Jesus In
The Park social outreach event. Having released his Higher Heights mixtape
albums 1&2 and hosting a
Gospel Sailaway in 2011, the DJ is truly soaring to higher heights. Jesus In
The Park will be his very first social initiative since transitioning from a
very popular secular DJ to a gospel DJ.

"Being a basketball coach and holding
training sessions on Christie Park, I encounter a lot of young men who display
negative attitudes,aggression and anti-social...
News date : 04/13/2012