April 07, 2012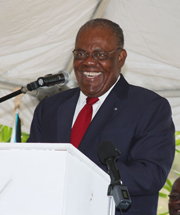 Exuma, The Bahamas -
The signing of a near $14 million contract for Exuma's new community health facility highlights the continued transformation of the Government's National Health System said Prime Minister the Rt. Hon. Hubert Ingraham.
In addition to initiatives such as the National Prescription Drug Benefit, the Government is continuing with a comprehensive multi-year programme to upgrade and expand health care facilities throughout The Bahamas, he noted.
The Prime Minister presented the keynote address at the official contract signing ceremony for the 32,000 sq. ft. facility to be funded by the National Insurance...
News date : 04/07/2012 Category : Health