March 29, 2012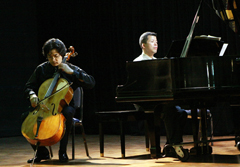 Nassau, Bahamas - Under the patronage of Governor-General Sir Arthur
Foulkes, the Nassau Music Society's March 23 - 24, 2012 concerts at The
Kirk and St. Paul's Lyford Cay respectively featured
internationally-acclaimed performing artists Wei-Yi Yang, pianist, and
Ole Akahoshi, cellist, both Professors at the Yale School of Music.

Professor Yang was born in Taiwan and educated in the United Kingdom and
the United States, studying with Arkady Aronov of the Manhattan School
of Music and Boris Berman of Yale. Winner of the Gold Medal and Grand
Prize in the San Antonio International Piano Competition, many other
triumphs followed as he performed in Europe, the Far East, Australia,
Central America, and in the U.S...
News date : 03/29/2012