March 17, 2012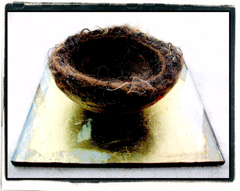 Transforming Spaces
opens next weekend - 24th and 25th March. The annual event that takes
tour buses around art galleries in New Providence for a feast of art,
has a twist this year. The organisers sent out a call for proposals
based on the theme "Fibre", specifically a re-imagining of indigenous
fibre.

It seems to me that with every piece of art I make, I hit a
moment where I curse that I ever had the idea! This moment hit me very
clearly when standing in Port Lucaya on a cool dark winters evening,
with my pink folder in hand, pen and a pair of scissors handy, as I
approached a young woman sitting on a step busily typing on her laptop.

She is surrounded by others who, like her, are taking advantage of free wifi...
News date : 03/17/2012