March 07, 2012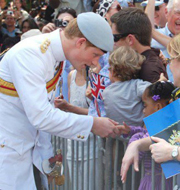 NASSAU, Bahamas -- While the African People's Socialist
Party-Bahamas is not opposed to the visit of Prince Harry or that of any other
representative of Great Britain to The Bahamas we insist that The Bahamas' bi-lateral relations
with Great Britain be carried out as one between two completely independent
nations instead of one that functions as a "parent-child" relationship.

The African People's Socialist Party-Bahamas
recognizes the historical fact that British imperialism, with Prince Harry as
its newest face, was the process by which millions of Africans were enslaved
and the African continent itself divided and exploited in the interests of the
British Empire and all of Europe. This imperialism also includes the domination
by Great Britain of millions of non-white people...
News date : 03/07/2012