February 28, 2012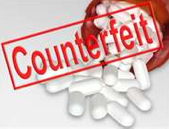 Nassau, Bahamas - It
has come to the attention of the Ministry of Health that some
counterfeit drugs are being sold in The Bahamas.

As a result,
the Ministry together with The Bahamas Pharmacy Council has appointed a
Committee chaired by the Chief Medical Officer, Dr. Merceline
Dahl-Regis, to investigate allegations of the importation and
distribution of counterfeit drugs by at least one pharmacy in The
Bahamas.

The Committee will be assisted in its investigation by the Pan American Health Organisation (PAHO)...
News date : 02/28/2012