February 04, 2012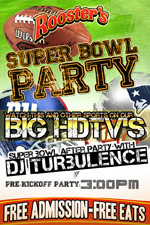 Freeport, Bahamas - There's no better place to watch the Superbowl than at Rooster's Sports Bar in Grand Bahama!
Watch the BIG game on our HD TV's throughout our open air facility. We'll have the game up on the big stage screen as well!
Free eats and Free Admission! Drink Specials!
Our Pre-Kick-Off Party starts at 3pm, so get to us early to pick your best seat or table. Whether you sit in our comfy couches or group at a table ...
News date : 02/04/2012 Category : Sports