January 12, 2012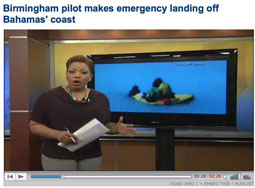 A doctor, an experienced pilot from Birmingham Alabama was forced to make an emergency landing off the cost of The Bahamas.
Dr. McGlaughlin was on his way to provide healthcare for victims of the earthquake that devastated Haiti in 2010.
Fortunately, his experience as a pilot allowed him to make the landing unharmed.
News date : 01/12/2012 Category : Accident/Emergency