November 22, 2011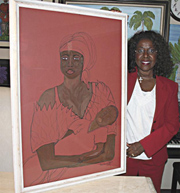 Redmond Reporter writes:

Redmond resident and Bahamas native Leona Coakley-Spring
is a woman of many talents with a sole mission: To help people living
with AIDS in her homeland.

She's a gospel singer, actor, painter and cosmetologist and her passion is giving back to people who cannot help themselves.

"There is no welfare there, just the
kindness of strangers," said Coakley-Spring, who experienced many hard,
hungry days growing up in a...
News date : 11/22/2011