November 04, 2011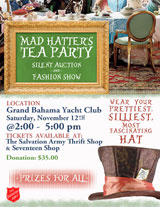 Freeport, Grand Bahama -

The Salvation Army raises money
for those in need through small fund raisers. This year a group of local women, the SA
Women's Auxiliary, have organized a "Tea Party" to help raise funds for
their ongoing programs.

The Mad Hatters Tea Party will be held on

Saturday, November 12, at the
Grand Bahama Yacht Club at the Club House, from 2:00 - 5:00 pm. The
affair boasts lots of good food, a silent auction with great prizes
including a trip to Fort Lauderdale, a stay at the Marriott of your
choice, a Celebrity Cruise Gift Certificate and many more. They will
have a very unusual fashion show, actually Freeport's first "green"
fashion show, featuring clothes from the Thrift Shop......you will be
surprised to see what's there.

..
News date : 11/04/2011