October 09, 2011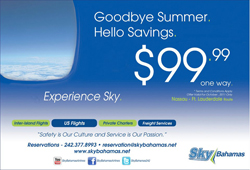 $99.99 One Way from Nassau, Bahamas to Fort Lauderdale, Florida - This October!

Experience Sky. $199.98 Round Trip.

Taxes Included. No hidden Fees!

Thursdays, Fridays, Sundays, and Mondays.....Two flights each day.

Taxes included - Limited 75lbs - 2 bags per passenger.

At
Sky we offer wide spacious aircraft; Bahamian treats; On time flight
schedules; In-flight beverage service; Friendly and efficient staff;
Group and charter
services.
News date : 10/09/2011