April 06, 2011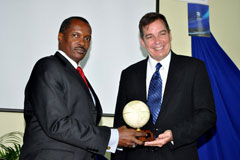 Nassau, Bahamas - BGU is committed to academic excellence, quality spiritual growth and community transformation.

About a year ago, Dr. Carmela Nanton introduced BGU's business students
to BSG: The Business Strategy Game, Competing in a Global
Marketplace. This is where Business Schools located worldwide have
students work with faculty to submit quality Business Simulation
Projects. These are then ranked by BSG in various areas of quality. Dr.
Nanton is an educator, author, international speaker, workshop leader,
and scholar. She is passionate about adult education, multicultural
issues, community-building, and global management and leadership...
News date : 04/06/2011