March 23, 2011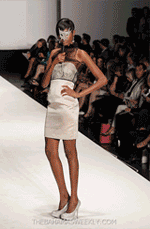 Bahamian photographer, Demetrius Francis attended Miami Beach International Fashion Week which ran from March 3 - 6, 2011 at the Miami Beach
Convention Center Hall A. The venue was transformed into a state of the
art "Fashion City" built to house all fashion shows, exhibitions
and sponsor lounges as the world's fashion elite flock to Miami Beach to
participate in this world class event.

Enclosed are some of his photos which features Rocky Gathercole of Dubai's futuristic design collection. Also seen here are designs by Claudia Bertolero of Peru, and designs of Julian Chang who opened the fashion week last year...
News date : 03/23/2011