March 07, 2011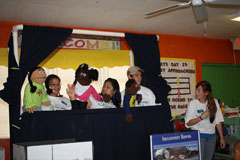 Freeport, Bahamas -
During their one-week visit to Grand Bahama, cast members of 'Up with
People' (UWP) busily assisted the Keep Grand Bahama Clean (KGBC)
committee with various tasks on the island.

Cast members lent their physical
strength as they engaged in clean-ups at The Grand Bahama Home for the
Aged (GBHA) and along the streets. Much needed support was also
rendered to staff of the Rand Nature Centre as UWP members performed
various odd jobs.

The artistic talents of group
members came to the fore during special performances along with the KGBC
puppets at several of the island's schools and at the Sir Charles
Hayward Children's Library...
News date : 03/07/2011