March 03, 2011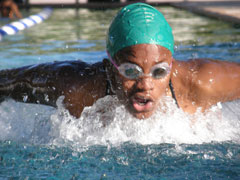 Six swimmers from Lucayan Lightning Swim Team achieved 14 personal best
times and 8 CARIFTA qualifying times in Nassau last weekend, at the KPMG
Invitational ,hosted by Barracuda Swim Club. This is the second
consecutive time the team has travelled and all swimmers have achieved
personal best times; clear indication of the focus and dedication of the
coach and swimmers.

Coach Andy Loveitt stated that he was "very
happy with his swimmers' progress" and he will now strategically prepare
his team for the final CARIFTA trials in two weeks...
News date : 03/03/2011